Maddina macht Fotos and your Gurl Shawty proudly present: SNKR Portrait on TonRabbit.com!
Wisst Ihr, was mich schon immer in der Sneaker-Szene genervt hat? Das immer nur die "lauten" Sneakerheads gesehen werden. Aber, dass es so viele coole Dudes & Dudettes in der Szene gibt, die keiner auf dem Radar hat.
Mädness ist eine von denen. Klar. Sie repräsentiert Ihre Sneaker-Addiction auf instagram. Aber sonst…? Wie willst Du denn mitbekommen, dass sie gemeinsam mit Ihrem Mann ein eigenes Sneakerzimmer bei sich in der Wohnung hat? Stimmt – gar nicht! Bei einem gemeinsamem Kaffee mit hab ich genau das angesprochen… und zack – die Idee "SNKR Portrait" war geboren. Was hier passiert? Mädness und ich portraitieren gemeinsam Sneakerheads – mal einen bekannten Sneakerhead und mal einen weniger bekannten. Wir lernen Ihre 7 Holy Grails kennen, die Story hinter Ihrer Sneakerliebe und lassen die Freaks mal nen bisschen aus der Sneakerbox plaudern…
Und wer jetzt Bock auf ein Feature bekommen hat… schreibt Maddina, oder mir! <3
So, genug erzählt. Lasst loslegen. Und wir beginnen mit meinem Homie Rob! Go Get'Em Bwoi!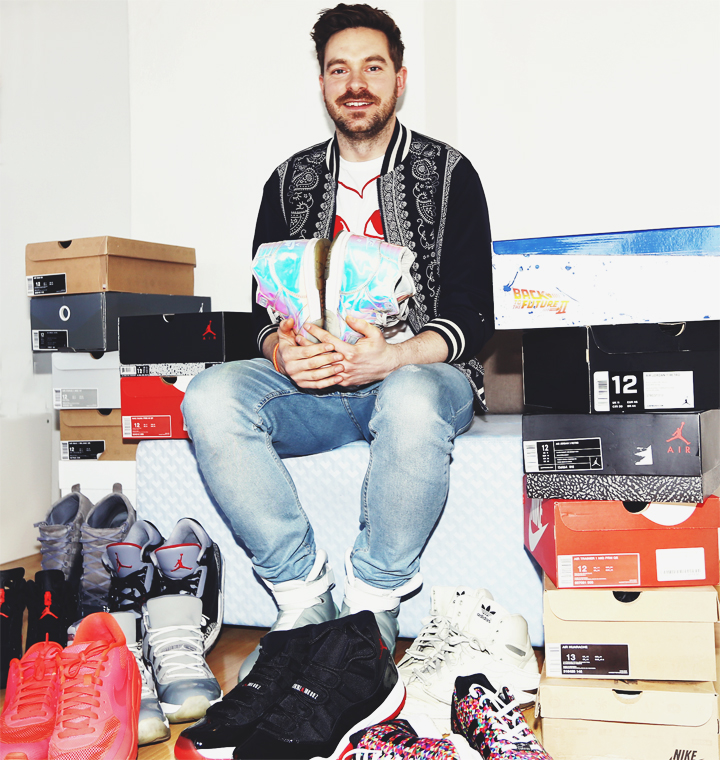 Name: Robert Kriesten
Alter: 34 Jahre
Beruf: PR-Berater
Located: Hamburg
1. Wieviele Paar Sneaker hast Du?
2. Welche Top 9 Sneaker hast Du ausgewählt?
Nike Air Max 90 Hyperfuse ID
Jordan XI Cool Grey 2010
Adidas ZX Flux Prism
Jordan III Retro Black 2011
Balenciaga Arena Glossed-Suede High Top
Back to the Future Universal Pictures Version
Nike Air Trainer PRM QS Superbowl Iridescent
Jordan VI Retro Black/Infrared
Adidas Jeremy Scott Wings Glow in the dark
3. Hast Du einen Bad-Weather Shoe?
Nike Air Force 1 Mid White!
4. Müssen Deine Sneaker zum kompletten Outfit passen?
Nein, nicht zum kompletten, aber eher schlichter Schuh zu nicht so schlichter Kleidung und vice versa. 
5. Sneakerkauf: Online, oder beim Local Dealer?
6. Hast Du einen "Holy Grail"?
Back to the Future (Universal Pictures Version) in Vorbereitung auf den Air Mag 2015 
Welchen "Holy Grail" würdest Du gerne in Deine Sammlung aufnehmen?
Und was würdest Du tun um an Ihn zu kommen?
Die Zeit zurückdrehen und zur Not eine Woche vor dem Laden campen.
7. Woher hast Du den Sneaker Virus?
Schon zu Kindergarten-Zeiten musste es Nike sein, Puma, Asics und andere haben komischerweise nie gepasst ☺
8. Welcher Designer sollte Deinen Traumsneaker entwerfen und wie sollte dieser aussehen?
Tinker Hatfield, Jeremy Scott und Kanye sollten sich zusammen setzen und meinen Traumsneaker designen. Mid High Sneaker mit Materialmix aus Suede, Mesh und Iridescent Upper. Infrared-Elemente, Flap, Rope Laces und GITD Sohle.
SNKR-PORTRAIT #1 | Rob's Top 8