It's official: SNEAKERPEDIA x SHAWTY !
Ich habe meinen Code bekommen und ich bin drin…
Wie es dazu kam, folgendermaßen…Vor ein paar Tagen kamen mal wieder ein Haufen Päckchen für mich in der Agentur an.
Uhren, Headphones und Sneaker…
Mein Lieblingsdude Vitruvo, warf einen skeptischen Blick auf meine Candy Sneaker und fragte nur vorsichtig, ob ich eigentlich inzwischen "Part of the Sneakerpedia Party" bin.
Stimmt, da war ja was…ich hatte vor 2 Monaten bei sneakerbOb etwas darüber gelesen…
Worum es geht bei der Sneaker Enzyklopädie geht und warum ich so fasziniert davon bin ?
Schaut selbst:
Die Kollabo mit Foot Locker lag also beim Thema Sneaker nah und ich bin geflasht von der Tatsache, dass man über die Tags verschiedenste Informationen einholen kann, von Grundcolourway des Schuh's bis hin zu welcher Promi sie trägt…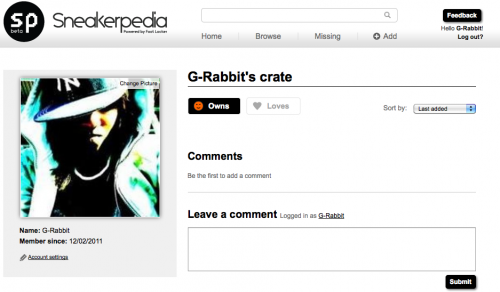 Fakt ist, dass man nur über Beta-Invites reinkommt und Fakt ist ebenso, dass ich mal öfter meine Twitter DM's checken sollte.
Anyway…auch wenn ich noch am Anfang meiner Sneakerliebe stehe und zugeben muss, dass es sehr wohl krassere Typen gibt,
freue ich mich echt dabei sein zu dürfen
THX an Sneakerpedia!
Und bin jetzt raus…meine Sneaks einpflegen…